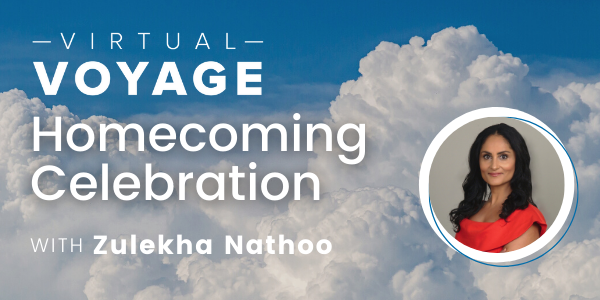 Join us at the Homecoming Celebration on December 5 at 4 PM EST, 3 PM CST, 2 PM MST, and 1 PM PST.
Similar to in-person Walks, this year's event will include many hallmarks like entertainment and inspiring stories. Most importantly, it'll bring together supporters like you from across Canada to celebrate our achievements and contributions. Mark your calendar and don't forget to invite your friends and family – everyone is welcome.
Zulekha Nathoo is an award-winning broadcast and digital journalist based in the US. She contributes to several news outlets including the BBC, covering stories about culture and inequality. She also recently produced an in-depth podcast feature about COVID and grief in Atlanta's Ismaili community.
Zulekha was born in Calgary and previously worked for the CBC in Toronto and Los Angeles as a national arts & entertainment correspondent. Her work earned a prestigious Southern California Journalism Award in radio/podcasting and a U.S. National Arts & Entertainment Journalism Award for broadcast reporting. Zulekha is an alumna of the United Nations Alliance of Civilizations fellowship program, which took her to the Middle East and North Africa. She also spent a year reporting in Kenya as part of AKFC's international media fellowship. Zulekha holds a Master of Arts in Journalism and lives in Atlanta, GA with her husband and young son.